Step By Step Picture Tutorial to start Your WordPress Website In Easy Steps
I have written this 2000 + word guide specially for you and new bloggers looking to start a blog  or a business website and I really hope this step by step tutorial helps you get started.
I have been blogging for the last 10 + years and  write from some  of my own blogging experience and hope you get something out of this ultimate guide for your blogger journey.This will help you if you are starting out as a new blogger or even if you are an established blogger. [updated 28 august 2017]
This tutorial is based on using the wordpress software, which is one of the most versatile website building software and can be used to build a blog or a business website quickly and easily. WordPress is also easy to maintain and update + customise and is one of the most popular bloggin platform on the internet
The first thing that goes through a person's mind when they are looking to start a website or blog is the most important questions of price or cost of set up, how easy it is to set it up a blog , and what's involved  in this process, so  I have put together some questions below that you would most likely be searching Google for –  and also the answers are provided below.
· What do you need to build a Blog ?

· How much does it cost to make a website ?

· How easy or hard it is to create a blog?
There are many easy website building software's like Drupal , Joomla and others, but wordpress by far is the most easy software to build a website or blog today and is also the most popular website  software on the internet used by many  top million dollar blogsters.
Building a Blog Quickly in #3 steps  :
If you want to start a blog quickly, it can be done in just three steps, once you have everything ready  to install and set up your wordpress blog. 
It can be done by picking a domain name and installing a blog with 1 click install , then writing your first post and  just clicking publish to go live on the internet. The part of  (installing a blog) can take the most time  but can be done in 10 minutes or less if you have used computers before ( time may vary according to your knowledge level on computers).
So What is it (wordpress) ? – WordPress is a CMS ( content management system) which you can use to build a blog and/or a website. This software itself is so flexible that you can make your website look like a professional website or then just like a blog in a few clicks. I recommend that you choose this to build your blog with wordpress and you can rest easy in the future. Below I will also refer wordpress to WP in its popular short form.
This Article Contents
For the sake of convenience, I added links to different sections of this article, so you can easily skip ahead to the section you want..
· What do you need to build a blog

· How much does it cost to create a website

· How easy it is to create a blog

· Quick Steps for building your blog

· How to start a self-hosted blog with bluehost

· Tips on buying domain name for your website

· Making your blog good looking and professional
Who will this blog-website making tutorial benefit?
1. Mum bloggers looking to start a blog
2. Small business owners looking to get an online presence via a website
3. People looking to start a Fashion blog, Recipe Blog, Business website, Portfolio Blog
4. Or pretty much anyone looking to start a niche website or blog
So let's get started – Shall we?
NOTE: This post contains some affiliate links which means I earn a small commission at no extra cost to you if you buy  any services after clicking through from my blog. Please remember that I never promote any products unless I've used them myself.
So here are the answers you seek
1st question – What do you need to build a blog?
I will keep this simple all you need to start a blog is a domain name and a hosting acount. Domain name is the www.mywebsite.com and hosting is  space where your website would stay on the internet. I get my domain name normally from godaddy and hosting from bluehost.

You could get your domain and hosting from two different places like godaddy and bluehost, but I will make this easy for you and suggest you get this from the same place if you are starting a new blog.Read more below
So, this is all you need to get your blog started and running on the internet and I will show you a step by step procedure on how to get this all set up below.
2nd Question – How much does it cost to make a website?
I will be frank ( not Jeff -thats me ) with you and tell you that most hosting companies will quote you the monthly rate ( Anywhere from $3 to $6 a month) , but not all will give you the option of paying monthly and so you will have to pay it in  lump sum yearly or 24/36 months in advance.
So say, I am recommending bluehost at the current discounted price of $3.95 ($5.99 normally) – the 36 month price for it would be $142.20. You can Process you order via this link and check what price you will get. These prices are typically for starter plans, but you can also get pro and plus plans with them which offer a few more features and benefits.
You get a domain name free with this 24/36 month plan, so you save another $15 to 20 dollars on that as well when you purchase this plan. I would suggest getting a 36 month plan as you block that lower price for that period. Prices never go down ,they only rise!!
If you took only a 12 month term, the price could jump back to $7.49 a month which is standard rate for 12 months for renewing your plan after twelve months and so you lose the savings you get for 36months and will end up paying more for a shorter term plan.
So to put it simply your cost for setting up and running a blog for one year is either $3.95 a month or then $142.20 yearly approximately.
I suggest you shell out an extra $69 dollars to sign up with elegant wordpress themes to get a good look for your blog. I tell you why – Say If you go shopping would you like to enter a good looking store or a shabby looking store, the same thing applies for your blog , if you don't have a good looking design for your blog , then your wasting its potential , so spend that extra bucks and get it looking good .
Elegant themes are one of the most affordable premium theme providers on the internet and you can get 80+ website themes for just $69. Browse and buy their designs over here.
If you add this cost$69 to your hosting of $142.20 then you are looking at @ $211 approx. for a whole year- which is about $17 a month roughly for a good looking blog on a nice platform.
Yes there are free blogging platforms like Blogger.com , Tumblr.com and wordpress.com but If you are serious about blogging and don't want limitations on your blog then the above recommended self hosted option over here is the best one .
3rd Question – How easy or hard it is to create a blog?
Hard? – If you can use a new smartphone or then type in a word document, then it should be very easy for you to set up a blog , yes it's that easy. Most new hosting companies like bluehost have a new 1 click install system where you can get your blog website installed and ready in just a couple of clicks.
To make this part of the process even easier I got a picture guide below on how to register with bluehost, claim free domain and start your blog in easy picture tutorial.
The actual process of setting up the blog can be done within 10 minutes, but the process from registration with blue host until setting up blog could add a few more minutes to it (Say total 15 to 20 mins in total for the whole process)
To be fair – Other Good options for hosting
I know I have given the breakup of pricing for bluehost hosting earlier for creating a blog, so I am going to give you two other options which are also good hosting companies.
Hostgator :
HostGator was founded in 2002 by Brent Oxley, who was then a student at Florida Atlantic University. HostGator is a Houston-based provider of shared, reseller, virtual private server, and dedicated web hosting with an additional presence in Austin, Texas.
Their shared hosting plans start at $5.56 a month (now 20% off)
Hostmonster :
Hostmonster is also part of the Endurance International Group which also owns bluehost. On June 12, 2011 company founder Matt Heaton announced on his blog that he was stepping down as CEO to focus on the company hosting platform's design and technical structure. Apart from the basic shared hosting they also offer VPS and Dedicated server hosting
Their Shared hosting plans start at $4.95 a month (Click here)

I will now take you through a guide with pictures on how to register for you hosting package and get your free domain with blue host. The process will be a bit similar if you choose to go with other hosting providers but the webpages may look a bit different from this below. Do not forget to read more beginner tips like choosing a domain name right below.
Below first I give the essentials of starting a blog below. And then dive into the picture guide of "how to start a blog with blue host hosting"
The essential steps of building your blog
We've covered so far is basically what it takes to build a blog and what's involved along with a few tips. Here below in a quick nutshell are essentially the four steps that you will take to complete the whole process to set up your blog:
2. Get a hosting account

3. Choose a platform

4. Install a theme, ( if you want one )
If you go with bluehost, which we recommend, then 1 and 2 is already taken care of in one shot and if you also take our recommendation of starting your blog on wordpress, then no3, is already taken care of as well, as the steps below will show you how to install the wordpress-blog with bluehost.
For No.4 we have reviewed some good wordpress theme providers below and finally show you how to make money with your blog
How to start a blog with blue host hosting (PICTURE GUIDE)
The below are screenshots  of  the process of registration with bluehost hosting ,  which also enables you to get a Free domain name with their hosting  all in one transaction.  These pictures below  will take you through the process of purchasing your hosting to setting up your blog with domain name.
IF there is anything that is not clear in this process or anything which you dont understand , do leave a comment below or get in touch with me here.
Step 1
Go to the bluehost website here. Click on get started now
Step 2
Choose the plan you  need. The lower priced $3.95 Starter plan should be sufficient if your starting a new blog. Click on select in the pic.
Step 3
Choose or search for your free domain name by typing in the domain name you want in the column on the website  Or then transfer a domain name that you already have  in this screen.
You will get this  message in the next screen :
The domain you have requested, jamestechblog.com, is available / Or NOT
Step 4
In this next screen , you will get asked for your name etc  and billing details. Choose the plan for a free domain name and enter  your details.
I think only domain privacy is worth  buying as an extra , but  you can choose whatever optional features you want as in pic below.
Click the i agree/ i confirm  button at the bottom and then  click submit
Step 5
Once you have done the payment  and got your  login details , You can now install your blog  by clicking the install button
You will get the login details in your email for your install when its finished installing.
Step 6
Once you install WordPress, it will tell you where to log in (usually http://start-a-website.info//wp-admin)
Step 7
Step 8  + Step 9  + Step 10
Check out a screen shot of a wordpress blog admin panel  one you are logged in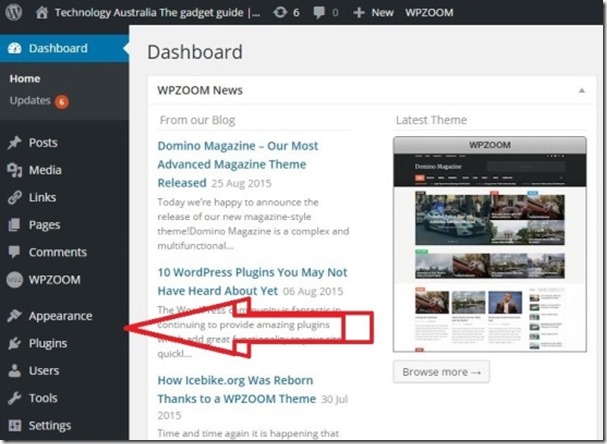 You can change the look by  installing a  good looking WP theme you have purchased   This can be done by clicking on the  appearance tab and uploading a  theme to the blog or then browsing for a free theme and activating it.
Well we are pretty much done over here installing the blog with the above steps . Here is the -> bluehost discount  link to start the process

The next steps given below are  steps which will help you to make your blog better and more professional looking and also improve popularity of your blog. How to make money with your blog etc  are also detailed below.
These Final 8, 9 ,10 steps  whihc is after the blog creation and a few more tips are explained below alltogether
8 – Tips on buying your domain
A domain name – Formally known as the Uniform Resource Locator or URL, it is often considered to be the address of a certain Web site.  The top level domain name is .com and that should always be what you are aiming for. They are other second level domains like .net .org .com.au and even newer one like .club a & .news.
I prefer to get my  additional domain names from godaddy , they often have 0.99 cent deals on for  a domain name , but you dont have to worry about this if you already got one free with your hosting package
I suggest you stick to .com if you can get your preferred name or something close to it. Few tips below on choosing one
1. Keep Name Short (LONGER NAMES ARE HARDER TO REMEMBER)

2. Get a Unique or interesting name

3. Dashes, abbreviations or numbers in your domain name could work against you

4. Domain name Ideas – Domainr can give you some inspiration on name ideas and If you're really stuck you can use Bust A Name or Dot-o-Mator

5. Was the domain previously used – Archive.org – The Internet Archive Wayback machine maintains snapshots of web pages as they change over time. You can use this service to find the kind of content that was earlier hosted on the domain if it was previously used by somebody.
ICANN: This is the organization that has ultimate control over the entire domain naming system. A domain name can contain the numbers 0-9, the letters a-z and the dash or hyphen character ("-"). It's important to note that while domains can contain a hyphen, they cannot begin or end with one
9- Install a theme or blog design on WP
It is surprising that not many people know that you get instant designs pre made for a blog- if you wish to change your blog design. Say you have set up your blog and its ready, all you need to do to get a professional looking design for your blog is buy one(download) and then go to appearance under your blog admin tab and upload the design in two clicks ( 2 mins) and then click activate and your new design is installed .
If you building a recipe blog you can just activate a premade design for a recipe blog, if you starting a travel blog just upload a design suitable to the fashion niche and so on.. There are free themes available under the appearance tab in your blog admin that you can choose an activate , but I recommend getting a paid one for peace of mind with security as they are always regularly updated and won't break with most word press updates as some of the free ones tend to do .
Pre made blog designs or wordpress themes as they are called can be got from providers for $59 – $150 for one theme to $69 for 80 + themes, so there is a big difference in pricing with different WP theme providers.

I always suggest elegant themes ($69 for 80+ premium themes) as they are good and affordable and recommend Solostream themes if you are planning to make money with Google AdSense, in the future with your blog as they have good options for adsense ads for your blog and they also allow the flexibility of removing the sidebar with a click in you want full width pages or posts in your blog.
10 -Making money with your WordPress blog
Google Adsense
This is one of the easiest ways to make money with your blog with help from "Google". It's called Google AdSense. All you need to do is sign up with Google AdSense and get approved by providing your blog url and then you can start earning money by putting those Google ads provided on your blog and earning money every time someone clicks on those ads.
I suggest applying for this once your blog is set up properly and some traffic starts to trickle in. People or bloggers are earning from as low as $1 a day to $150 or more a day from this program, so your earnings from AdSense will depend on how popular your blog is, which will automatically result in traffic and visitors making you money.
Affiliate Programs
For eg , if you just signed up with bluehost hosting above , you are also eligible to start promoting them via their hosting affiliate program and you can earn money every time someone signs up with bluehost hosting from your blog.
Making money with affiliate programs works well when you are promoting products that are relevant to your niche, say you are creating a recipe blog, you could promote a recipe book in your blog pages or posts.
You could also sign up with big affiliates that provide multiple products to promote under their banner, like Amazon.com
and CJ.COM.
Affiliate sales made from your blog can generate anywhere from $0.70 cent a sale to $100 or more for a sale depending on which product you are promoting and are paid either by postal cheque or online transfer into your PayPal account. It is paid sometimes within a week/fortnight, and sometimes on a delayed basis depending on the affiliate vendor.
Sponsored Posts
This normally happens when your blog becomes popular and notice in your niche. If your blog has started to get a high traffic, you will start getting approached via your contact page for sponsored posts or advertisement posts. What this means is people will make you an offer of money to post an article on your blog or then request you to write a post promoting their product and pay you for this. Again you can get paid anywhere from $10 to 100 for a post on your blog.
Creating your own product (ebook)
If you are creating a blog on recipes, maybe you can create a recipe book. If you are creating a blog on travel, maybe you can create a mini travel guide for a place you visited or if you have a fitness goal blog – You can create a book on how you reached you goal and help others achieve the same. If you gain success with this method you can earn a lot of money. They are various platforms where you can sell your book like Clickbank.com, Amazon and the Apple platform, Google play store.
I suggest you check out the Clickbank university if you're planning on selling a products (eBook) from your blog , as this online course can give you great tips if you are planning to build your first product and also train you in internet marketing which is the basics of earning money from your blog .
Getting traffic to my blog
This is what makes or breaks a blog, so to speak. The traffic you get to your blog is an indication of your success with blogging. If you get at least a minimum 200 unique visits a day, then you should be able to monetize some of your traffic and make money and if you are getting 500 or more unique visits a day and not making money with your blog then something is wrong somewhere. But don't worries these figures still say that your blog is popular if you are happy with that.
Traffic or people will visit your blog only when there is content that is interesting and unique to read on the topic they are interested in. People will also come to your blog in large numbers if you are ranking in top ten in Google search OR Bing OR Yahoo and this can be achieved by SEO and Writing interesting content.
How to get this traffic to blog – Basic SEO is easy with wordpress, you just need to install a plugin – from the add plugin in your blog admin area and install the SEO plugin in two clicks. I recommend ALL in one SEO and Yoast SEO plugin (though I think yoast is a bit bloated plugin) (they both are free). Just follow tutorial on their respective blogs or Google search to get information on how to set them up.
Other popular methods of getting traffic nowadays is creating viral bait titles for your blog posts or website contents and distributing it in your Facebook page, account or on Twitter, Pinterest, Google plus, You tube Videos etc. with interesting photos to match. If this is done well you can get good regular traffic from these places to your blog (as they get shared more and more). Putting your website link in highly trafficked forums which you have joined may also a be a good idea to bring in more traffic. Optimize your signature with right words to entice people to click it.
Now that you have set up your blog , know ways to make money from it and also how to get traffic , you don't really need anything else but to just get started and working on your blog . Good luck and DO IT TODAY!